Photographing Fireworks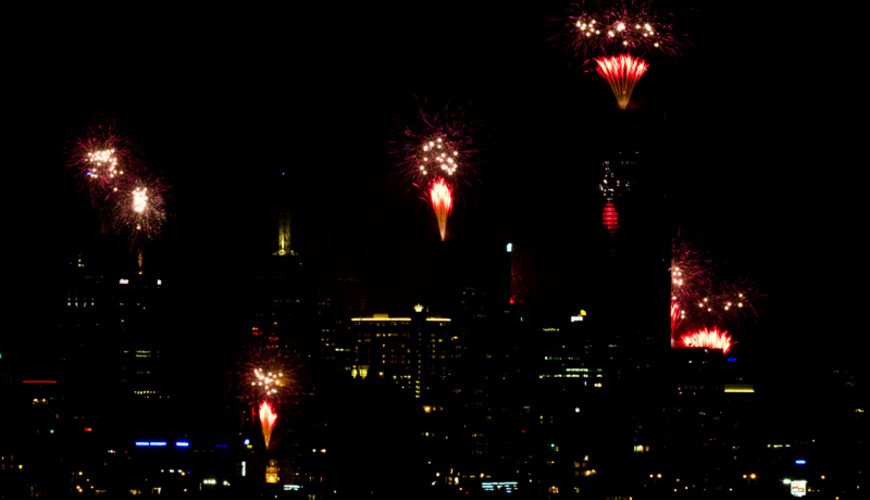 Taken from the foreshore at Williamstown, New Years 2012
© David Male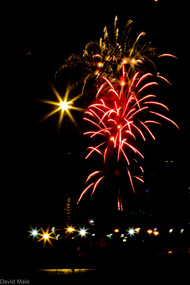 On New Year's Eve I decided to go down to The Strand on the Williamstown foreshore with some friends, overlooking the Yarra River, and try to capture some photos of the fireworks exhibited at various locations within and around the city.
I had even visited The Strand in the afternoon to pick out a good vantage point to set up my tripod that evening. It was a lovely night, and I was well organised, but unfortunately I was beaten to MY spot by a couple of thousand others who decided this was also a good location to welcome in the NY!
Well, somehow we managed to muscle our way in, set up the canvas chairs, open the champagne and the chicken and avocado sandwiches, and set up the tripod – all on our allocation of 1m2 per person!!!
I had my Canon 7D plus 2 lenses (70-200, F2.8 and 24-105) and a 1.4x converter to experiment with. This was the first time I had ever attempted to photograph fireworks, so I was quite unsure as to what the outcome would be. It turned to be quite a bit of fun, and I was reasonably happy with my first attempt, but I think I will probably do it better next time.
There were 2 lots of fireworks, the first at about 9.30pm for the littlies and the 'real' ones at midnight for us oldies. This proved to be a major advantage as it enable me to experiment the first time around. I learned that you don't have a lot of time to shoot, so be ready with all your settings and be pointing in the right direction when they start. Also, I figured out quite quickly that I would need the maximum zoom lens available all the time ie my 70-200mm (times 1.4 = 98-280mm). Anything more powerful would not really have helped.
The following are some of the key practices and lessons learned from the occasion.
Use a tripod, take spare batteries;
Allow for crowds (arrive early to get a good spot);
If possible, select a location that creates a good 'compositional anchor' (eg boats in foreground at Williamstown or Westgate Bridge or an old cannon on the foreshore). I tried this, but it did not work as my main point of interest was too far away. Next time I will try and carry out better pre-photo reconnaissance);
Vary the amount of zoom for different composition and effects;
Use Remote Control to take photos and avoid camera shake. Set camera accordingly;
Use Manual Focus – pre-set focus using Auto Focus, then switch over to Manual. Be careful not to bump the focus during ongoing use.
Camera settings:
Use lowest ISO possible. I used ISO 800. I had to experiment and some allow extra light in, otherwise the shutter speed was too long and it caused the fireworks to blur ie not be sharp;
Turn Image Stabiliser (IS) to OFF on the lens whilst in use on the tripod;
Use Bulb (B) setting in conjunction with Remote Control;
Aperture and Shutter Speed – experiment. I started with F8 and 1 second, through to F22 and 2 to 6 seconds (all at ISO 800). Trial faster speeds to reduce blur / over exposure ie < 1 sec;
I left the White Balance on AWB;
I did do some post photo enhancement using LightRoom 3, the main edits being:
Cropping, to zoom in on the important bits;
Black Clipping, to darken the background and create greater contrast;
Clarity, to sharpen the detail in the
Vibrance, to add a bit of punch to the colour of the fireworks.
Click on any image above to see a larger view.